Record number of auditions NJO Winter Tour
20 december 2021
Despite the challenging circumstances, we managed to keep all auditions for the upcoming Winter Tour of the National Youth Orchestra of the Netherlands (NJO) live! No fewer than nineteen audition days*) with lots of stair climbing and cups of coffee have been organised to allow all auditors to play. We look back on a record number of candidates: 531 applications for 59 positions in the orchestra. "This number is a sign that the musicians have an incredible need to play and to practice auditioning live," says Daniëlle Egberts, orchestra manager of the NJO. "We have put a lot of effort into organising the auditions live because the musicians can best work on their audition skills through a live experience. The level of the auditors was very high, very well done in these uncertain times. We can look back on a very successful audition round."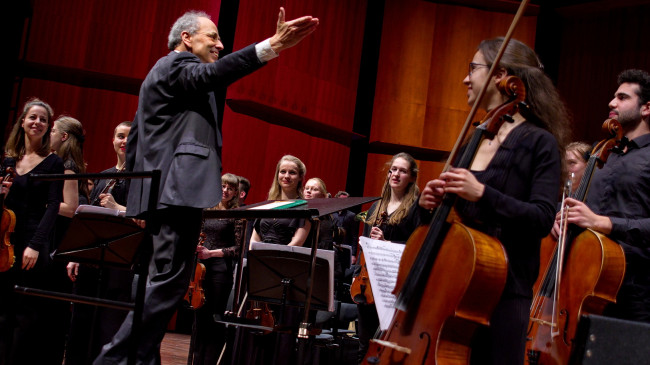 The National Youth Orchestra of the Netherlands during the Winter Tour of 2019, conducted by Ed Spanjaard (Photo Jan Kapsenberg)
Marjolein Rietveld, producer at the NJO and together with Daniëlle Egberts responsible for the organisation of the auditions, attended almost all auditions. Marjolein: "We are very grateful for the opportunity to hold auditions at the Utrecht Conservatory, the Royal Conservatoire Antwerp, the Conservatory of Amsterdam, Codarts and the Muziekcentrum van de Omroep. It was a huge puzzle for them to make room for us with the changing measures during the auditions within their own full schedule, but it all worked out wonderfully."
For the auditions, the National Youth Orchestras of the Netherlands, the organisation behind the NJO, works with experienced pianists and jury members from the major Dutch orchestras. When receiving candidates, former NJO members also assisted: "It's great that we can always count on them!," says Daniëlle Egberts.

The names of the musicians selected for the NJO Winter Tour 2022 will soon be published on the NJO website.
In March / April 2022, new auditions will be held for the NJO summer projects, with several orchestral projects and therefore also with more vacancies. Registrations for these auditions will be announced in February via the NJO website and social media.
*) Simultaneously with the auditions for the NJO, the NJON also organises the auditions for the European Union Youth Orchestra (EUYO). These fell within the stated nineteen days. The numbers of auditors mentioned only concern auditors for the NJO.